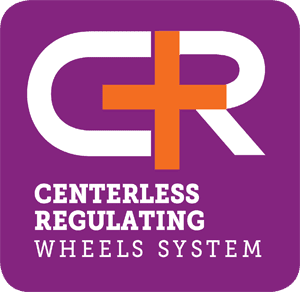 Testimonials
Tim said "…..I'm very pleased with the performance of your wheel. I will order more wheels as I need them. Truly a quality product! Thank you!
0 comments
We custom manufacture Pro-Grind Centerless Grinding wheels to order. Many years of manufacturing these diamond and CBN Centerless wheels has given us the knowledge to provide the perfect wheel for the job whether you are grinding Tungsten Carbide rods, Tool steel rods, Powdered metal rods, tapered rods, or step drills, etc.
Our wheels are designed to provide the ultimate in material removal rates, wheel life and desired surface finish. Available in four different core material and six different bond options, with grit sizes from 60 mesh to 4 micron, we can provide you with the perfect wheel for your application. In addition to being able to provide the exact wheel you need, we can also place the wheels in our Make and Hold program, ensuring the wheels are available as soon as you need them.
Combine these Pro-Grind wheels with our Hypergrip regulating wheels and you will have the ultimate performance for your application – consistent part rotation from the regulating wheel and ultimate material removal or desired finish from the centerless wheel.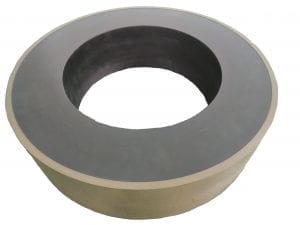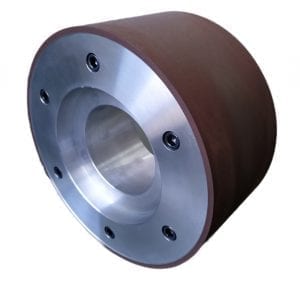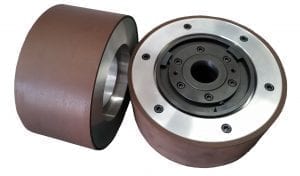 Free Ground Freight on all Centerless Wheels (U.S. only)
All wheels Mounted and balanced on your hubs
Custom wheels made for utility grind with fast throughput or to have a special surface finish requirement.
We can provide surface finishes to 1 Ra and better depending upon the type of material being ground.
Each wheel is precision ground, stuck open ready to use right out of the box.
We produce the wheels with an abrasive depth ranging from 1/8" to in excess of ½" depth for special applications.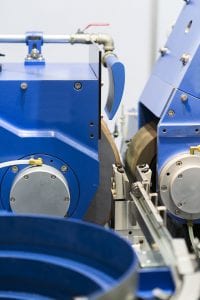 To name a few, we make wheels for the following machines almost every week:
Cincinnati
DedTru
Koyo
Landis
Okuma
Paragon
Royal Master
Unison
WMV
9A1
1A1
Metal bond centerless grinding wheel
Shape
Wheel dimensions DxTxHxWxX
Grit size (Mesh)
Abrasive section - Core material
Machine type
1A1/9A1
220x101x10x101x6
D120-D14000
Continious rim - Steel core
Cincinnati, Landis, Royal Master, Madison
1A1/9A1
220x141x10x141x5
D120-D14000
Cincinnati, Landis, Royal Master, Madison
1A1/9A1
350x150x200x150x6
D120-D1200
Cincinnati, Landis, Royal Master, Madison
1A1/9A1
400x180x203.2x180x6
D120-D1200
Cincinnati, Landis, Royal Master, Madison
1A1/9A1
400x150x304.6x150x6
D120-D1200
Cincinnati, Landis, Royal Master, Madison


Custom sizes available
Any grit














9A1
1A1
3A1
Resin bond Centerless grinding wheel
Shape
Wheel dimensions DxTxHxWxX
Grit size (Mesh)
Core material
Machine type
1A1
250x100x90x100x6
D60-D6000
Aluminum, Composite, Abrasive
Cincinnati, Landis, Royal Master, Madison
1A1
300x100x120x100x10
D60-D6000
Cincinnati, Landis, Royal Master, Madison
1A1
300x100x127x100x10
D60-D6000
Cincinnati, Landis, Royal Master, Madison
1A1
300x100x127x100x6
D60-D6000
Cincinnati, Landis, Royal Master, Madison
1A1
300x100x152.4x100x6
D60-D6000
Cincinnati, Landis, Royal Master, Madison
1A1
300x102x127x102x6
D60-D6000
Cincinnati, Landis, Royal Master, Madison
1A1
300x145x165x145x10
D60-D6000
Cincinnati, Landis, Royal Master, Madison
1A1
300x150x120.03x150x6
D60-D6000
Cincinnati, Landis, Royal Master, Madison
1A1
300x150x120x150x10
D60-D6000
Cincinnati, Landis, Royal Master, Madison
1A1
300x150x120x150x6
D60-D6000
Cincinnati, Landis, Royal Master, Madison
1A1
300x150x127x150x10
D60-D6000
Cincinnati, Landis, Royal Master, Madison
1A1
300x152.4x100x152.4x6.35
D60-D6000
Cincinnati, Landis, Royal Master, Madison
1A1
300x80x140x80x6
D60-D6000
Cincinnati, Landis, Royal Master, Madison
1A1
305x100x120x100x10
D60-D6000
Cincinnati, Landis, Royal Master, Madison
1A1
305x100x120x100x6
D60-D6000
Cincinnati, Landis, Royal Master, Madison
1A1
305x120x120x120x10
D60-D6000
Cincinnati, Landis, Royal Master, Madison
1A1
305x120x120x120x6
D60-D6000
Cincinnati, Landis, Royal Master, Madison
3A1
305x125x120x75x10
D60-D6000
Cincinnati, Landis, Royal Master, Madison
1A1
305x150x120x150x10
D60-D6000
Cincinnati, Landis, Royal Master, Madison
1A1
305x150x120x150x6
D60-D6000
Cincinnati, Landis, Royal Master, Madison
3A1
305x150x120x100x6
D60-D6000
Cincinnati, Landis, Royal Master, Madison
1A1
305x150x120x150x6
D60-D6000
Cincinnati, Landis, Royal Master, Madison
1A1
305x150x120x150x8
D60-D6000
Cincinnati, Landis, Royal Master, Madison
1A1
305x60x120x60x10
D60-D6000
Cincinnati, Landis, Royal Master, Madison
1A1
305x75x120x75x10
D60-D6000
Cincinnati, Landis, Royal Master, Madison
3A1
305x75x120x75x10
D60-D6000
Cincinnati, Landis, Royal Master, Madison
1A1
305x80x120x80x10
D60-D6000
Cincinnati, Landis, Royal Master, Madison
1A1
305x80x120x80x6
D60-D6000
Cincinnati, Landis, Royal Master, Madison
1A1
305x80x120x80x6
D60-D6000
Cincinnati, Landis, Royal Master, Madison
1A1
350x100x127x100x10
D60-D6000
Cincinnati, Landis, Royal Master, Madison
3A1
350x100x127x70x6
D60-D6000
Cincinnati, Landis, Royal Master, Madison
1A1
350x100x127x100x6
D60-D6000
Cincinnati, Landis, Royal Master, Madison
1A1
350x120x127x120x10
D60-D6000
Cincinnati, Landis, Royal Master, Madison
1A1
350x125x127x125x10
D60-D6000
Cincinnati, Landis, Royal Master, Madison
1A1
350x125x127x125x6
D60-D6000
Cincinnati, Landis, Royal Master, Madison
1A1
350x150x127x150x10
D60-D6000
Cincinnati, Landis, Royal Master, Madison
9A1
350x150x200x150x10
D60-D6000
Cincinnati, Landis, Royal Master, Madison
1A1
350x80x120x80x10
D60-D6000
Cincinnati, Landis, Royal Master, Madison
1A1
350x80x127x80x10
D60-D6000
Cincinnati, Landis, Royal Master, Madison
1A1
355x150x180x150x10
D60-D6000
Cincinnati, Landis, Royal Master, Madison
1A1
400x105x228.6x105x10
D60-D6000
Cincinnati, Landis, Royal Master, Madison
1A1
400x130x203.2x130x10
D60-D6000
Cincinnati, Landis, Royal Master, Madison
1A1
400x150x203.2x150x10
D60-D6000
Cincinnati, Landis, Royal Master, Madison
1A1
400x150x203x150x10
D60-D6000
Cincinnati, Landis, Royal Master, Madison
1A1
400x150x203x150x8
D60-D6000
Cincinnati, Landis, Royal Master, Madison
1A1
400x150x228.6x150x10
D60-D6000
Cincinnati, Landis, Royal Master, Madison
1A1
400x200x152.4x200x10
D60-D6000
Cincinnati, Landis, Royal Master, Madison
1A1
400x205x203.2x205x6
D60-D6000
Cincinnati, Landis, Royal Master, Madison
1A1
400x205x203x205x10
D60-D6000
Cincinnati, Landis, Royal Master, Madison
1A1
400x250x304.8x5×250
D60-D6000
Cincinnati, Landis, Royal Master, Madison
1A1
405x125x127x125x6
D60-D6000
Cincinnati, Landis, Royal Master, Madison
1A1
405x1502x28.6x150x6
D60-D6000
Cincinnati, Landis, Royal Master, Madison
1A1
405x203.2x228.6x203.2x6.4
D60-D6000
Cincinnati, Landis, Royal Master, Madison
1A1
450x205x228.5x205x10
D60-D6000
Cincinnati, Landis, Royal Master, Madison
1A1
450x205x228.6x205x6
D60-D6000
Cincinnati, Landis, Royal Master, Madison
1A1
450x255x228.6x255x10
D60-D6000
Cincinnati, Landis, Royal Master, Madison
1A1
450x255x228.6x255x6
D60-D6000
Cincinnati, Landis, Royal Master, Madison
9A1
455x205x228.6x205x10
D60-D6000
Cincinnati, Landis, Royal Master, Madison
1A1
455x205x228.6x205x8
D60-D6000
Cincinnati, Landis, Royal Master, Madison
1A1
455x255x228.6x255x10
D60-D6000
Cincinnati, Landis, Royal Master, Madison
1A1
455x255x228.6x255x6
D60-D6000
Cincinnati, Landis, Royal Master, Madison
1A1
500x100x203x100x10
D60-D6000
Cincinnati, Landis, Royal Master, Madison
1A1
500x125x304.8x125x10
D60-D6000
Cincinnati, Landis, Royal Master, Madison
1A1
500x125x305x125x10
D60-D6000
Cincinnati, Landis, Royal Master, Madison
1A1
500x150x120x150x10
D60-D6000
Cincinnati, Landis, Royal Master, Madison
1A1
500x150x305x150x10
D60-D6000
Cincinnati, Landis, Royal Master, Madison
1A1
500x150x305x150x6
D60-D6000
Cincinnati, Landis, Royal Master, Madison
1A1
500x152.4x304.8x152.4x6.4
D60-D6000
Cincinnati, Landis, Royal Master, Madison
9A1
500x200x304.8x200x10
D60-D6000
Cincinnati, Landis, Royal Master, Madison
1A1
500x200x305x200x10
D60-D6000
Cincinnati, Landis, Royal Master, Madison
1A1
500x250x254x250x10
D60-D6000
Cincinnati, Landis, Royal Master, Madison
1A1
500x250x304.8x250x10
D60-D6000
Cincinnati, Landis, Royal Master, Madison
1A1
500x250x304.8x250x22
D60-D6000
Cincinnati, Landis, Royal Master, Madison
1A1
500x250x304.8x250x6
D60-D6000
Cincinnati, Landis, Royal Master, Madison
1A1
500x355x304.8x355x10
D60-D6000


Cincinnati, Landis, Royal Master, Madison
1A1
600x250x304.8x250x6
D60-D6000


Cincinnati, Landis, Royal Master, Madison


Custom sizes available
Any Grit














1A1
Vitrified bond centerless grinding wheel
Shape
Wheel dimensions DxTxX
Grit size (Mesh)
Abrasive section - Core material
Machine type
1A1
350x200x5
D120-D500
Segmented - Aluminum core
Cincinnati, Landis, Royal Master, Madison
1A1
400x151x10
D120-D500
Cincinnati, Landis, Royal Master, Madison
1A1
405x95x5
D120-D500
Cincinnati, Landis, Royal Master, Madison
1A1
450x205x5
D120-D500
Cincinnati, Landis, Royal Master, Madison
1A1
500x250x6
D120-D500
Cincinnati, Landis, Royal Master, Madison


Custom sizes available
Any Grit