CBN Wheels
Eagle's solution for grinding hard ferrous materials, hardened steel, bearing steel, and nickel-based alloys.

CBN is a man-made superabrasive that outperforms diamond when used for ferrous (iron-rich) grinding operations. CBN derives its name from its chemical makeup (cubic boron nitride). When working with ferrous (iron-rich) materials, CBN is the superabrasive of choice. CBN is a highly-durable, synthetic abrasive mineral. This type of grinding wheel works best with steel or cast iron application. When coupled with high temperatures, CBN is of an unreactive nature, making it the preferred choice for "heated situations". Because of this, CBN wheels can be used at high speeds without affecting the life of the wheel.
CBN grinding wheels are used to sharpen, cut, or remove metal from hard surfaces, providing a consistent and even finish. Our CBN wheel can accurately cut metals, glass, and even diamonds. Most notably CBN wheels are used for hard, high-speed steels like woodworking tools, blades, bits, and cutters. When you're tools become dull over time from use, a CBN wheel will bring them back to life.
If you need a grinding wheel that will last longer, improve your operations, and comes with dedicated support, look no further than Eagle Superabrasives.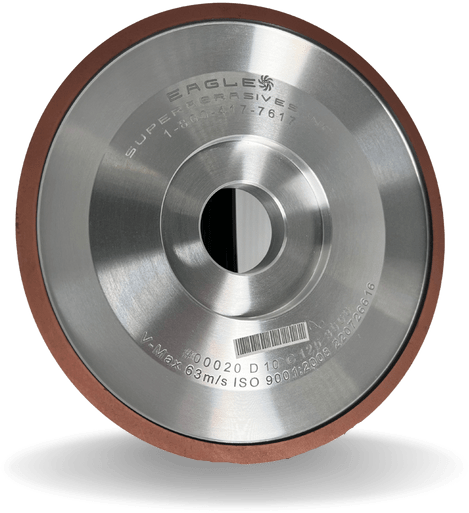 The Importance Of The Bond
The bond of a CBN wheel is one of the most important factors when choosing the correct wheel for the job. Our unique bond system retains the CBN particle longer than most other bond systems, providing a longer wheel life and excellent wheel durability and special heat-reducing processes. We offer a variety of bonds for our CBN grinding wheels including Phenolic Resin, Polyimide Resin, metal bond, vitrified bond and hybrid bonds – all of which can be custom made to fit your needs.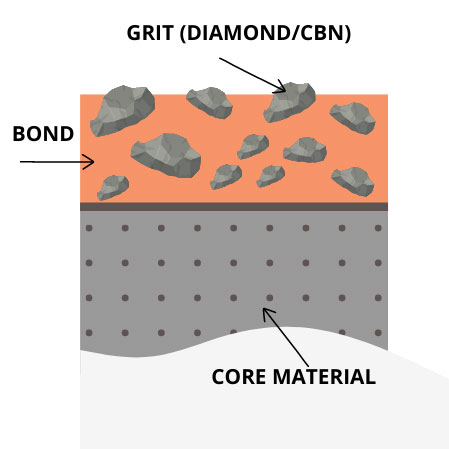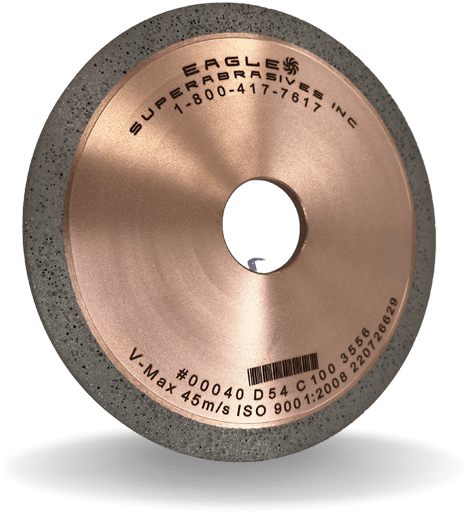 Hybrid bonds have now become the industry standard bond type for all manufacturing of ferrous based steel end mills, drills and reamers. They are used in the manufacturing of D2, M2, alloy/super-alloy end mills, drills, and reamers.
Our hybrid bond offers the benefits of hugely reduced cycle times, with material removal rates of up to 10 times that of any resin bond product, Other benefits include added wheel edge retention, lower spindle load, excellent thermal stability, reduced tool deflection, longer spindle life and no thermal damage to the tool.
Resin bond is the most commonly used bond system that is used for grinding all types of ferrous tools such as tool steels, Stellite, hardened alloy and super alloys. It's cost-effective and highly efficient. Resin bond offers good elasticity, superior surface finish and highly efficient grinding performance at a very cost effective price. Eagle Superabrasives offers two types of resin: Phenolic and Polyimide.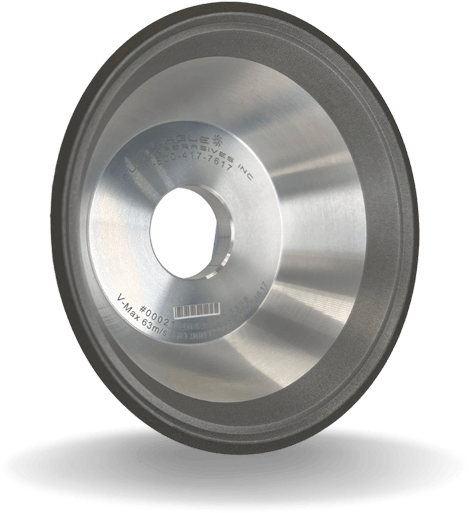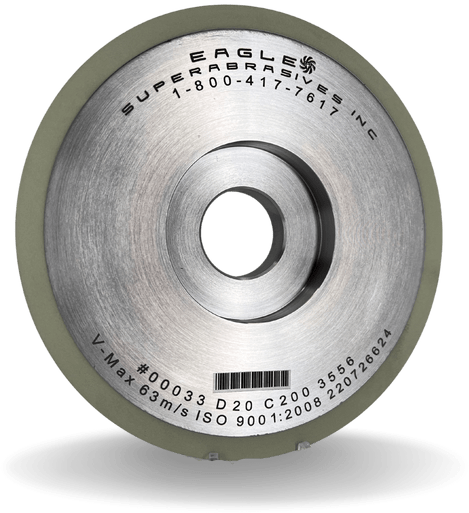 Vitrifided Bond CBN Wheels

Vitrified bond CBN wheels are typically selected for grinding camshafts. crankshafts and internal or external grinding of cylinders. Vitrified bond wheels are extremely aggressive, free cutting and provide excellent tool life. They require less dressing and offer longer truing intervals than resin bond wheels. They are cool cutting, making them optimal for high production grinding in manufacturing environments.


Trust the Experts
When you're ready to try the best, trust the experts at Eagle Superabrasives. We offer unparalleled customer support and service.
With an extensive inventory of over 6,000 diamond, CBN and CDX wheels in stock at our North Carolina location, we are capable of shipping 90% of orders same day. Custom orders can be shipped in as little as seven days.
Our experienced staff is dedicated to providing our customers with high-quality products and excellent service. We offer technical support and advice to assist you along the way.
We look forward to meeting all of your grinding wheel needs.