Cutoff
Can your wheels maintain geometric accuracy while quickly grinding ultra-hard materials?
Eagle Superabrasives is prepared to meet your demands with a large inventory of cutoff wheels of all shapes and sizes for multiple applications. With thickness tolerances as tight as ±0.02mm, we are prepared to supply the perfect wheel for your operation.
Long lifespan
Aggressive cutting capabilities
Wet or dry cutting formulas
Available for ECG grinding
Customization available for your application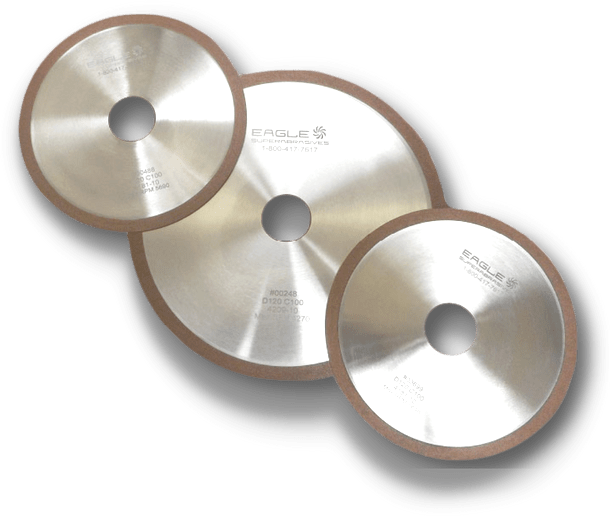 Eagle's peripheral grinding wheels are custom designed with a variety of bond options
Tired of "commodity" cut-off wheels? The Eagle CutMax Cut-off wheels add versatility to your cut off operation. With 3 bond options, the Eagle CutMax wheels give you the choice to cut faster or last longer.
CutMax Green Bond for the fastest cut – ideal when cutting dry or when cutting speed is most important.
CutMax Bond – our most versatile bond; ideal for all cutting environments.
CutMax CNC – extend the wheel life in your CNC cut-off operation.
All CutMax wheels use the most friable diamond on the market, which allows for fast, cool cutting.
Worried that a stock wheel won't cut it for your application? No worries! We manufacture custom wheels daily, and some of these wheels can ship in as little as seven days.
Trust the Experts
When you're ready to try the best, trust the experts at Eagle Superabrasives. We offer unparalleled customer support and service.
With an extensive inventory of over 6,000 diamond, CBN and CDX wheels in stock at our North Carolina location, we are capable of shipping 90% of orders same day. Custom orders can be shipped in as little as seven days.
Our experienced staff is dedicated to providing our customers with high-quality products and excellent service. We offer technical support and advice to assist you along the way.
We look forward to meeting all of your grinding wheel needs.