Diamond Wheels
Our diamond wheels are built for high-performance use and are made with ultimate precision to ensure they perform flawlessly from start to finish.

For grinding high hardness non-ferrous materials
Known as one of the hardest materials in the world, synthetic diamond abrasive offers maximum performance when used on non-ferrous workpieces. Eagle's diamond grinding wheels are manufactured with either a nickel or copper coating which provides extended wheel life. Our superabrasive wheels come in many shapes including flat discs, cones, cylinders, cones and cups.
Diamond grinding wheel applications include ceramics, glass, carbide, stone, composites and more. A diamond wheel is designed for straight cuts with pressure evenly applied. To get the longest life out of your diamond wheel and the highest material removal rates, remember to operate your wheel under the right conditions.
It's no secret that diamond grinding wheels offer multiple benefits including burr-free cutting edges, minimal thermal damage, high material removal rates, and less downtime due to conditioning or breakdown. Eagle's diamond wheels are built for high-performance use and are made with ultimate precision to ensure they perform flawlessly from start to finish. At Eagle, we believe in making small changes to deliver exactly what you want from your diamond grinding wheel. Our application engineers will guide you through the entire process; from understanding your options to product support after your purchase.
Hardness of Diamond Wheels
Diamond wheels are often graded by the hardness of the bond. The bond's high hardness allows for a longer lasting wheel when compared to conventional wheels used in the industry such as aluminum oxide and silicon carbide.
To determine the hardness of the wheel, you have to understand how the grains work.
A wheel is considered soft if the grains fracture or pull out from the bond easily. A wheel is considered hard when the grains selected do not micro-fracture and are held into the bond firmly. Typically, surfaces that are easy to cut can use a harder wheel.
A softer wheel is used for a more difficult to grind material such as sub micro-grain TCT cutting tools.
The Importance Of The Bond
While the diamond and coating type are an essential part of manufacturing diamond grinding wheels, the bond system selected to complement the diamond type is also a very important factor.
Our tried and true bond systems lock in the carefully selected diamond powders to ensure almost zero diamond pull out.
The careful ingredient selection process will provide a mechanical and chemical bond of the diamond particles to the bond system thus producing a long lasting, sharp and durable grinding wheel.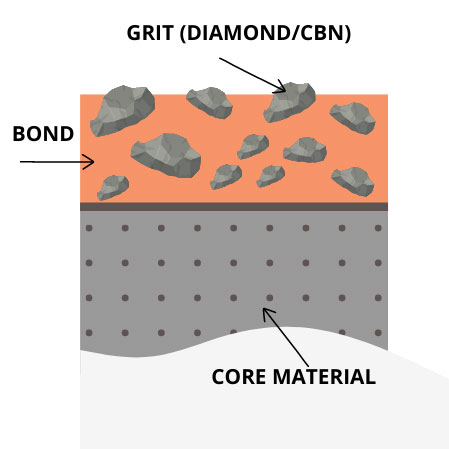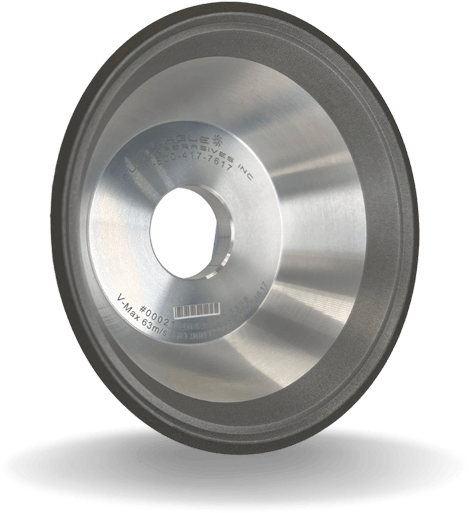 Resin Bond Diamond Wheels

Resin bonds are the most commonly used bond system for superabrasive grinding wheels. They are used for grinding all types of tungsten carbide tools, ceramics, glass, ferrites, refractories and semi-conductors. Resin offers good elasticity, superior surface finish and highly efficient grinding performance, all at an affordable price.
Resin bond wheels come in two varieties: Phenolic and Polyimide.
Phenolic resins are typically used for wet or dry grinding, off-hand grinding, centerless grinding and general purpose tool room use. Polyimide resins offer a considerable performance increase over generic phenolic resins. You can expect to see greater stock removal, better form holding, higher temperature tolerance and minimal wear when grinding with polyimide bond wheels.
Hybrid Bond Diamond Wheels

Our hybrid bond wheels are industry leaders in the manufacturing of solid carbide endmills, drills and reamers.
Eagle Superabrasives' hybrid bonds utilize a unique and  bond system offering superior edge retention and stock removal rates.  Our bond system is comprised of a mixture of specially selected alloys, ceramics, diamond powders and coatings, all sintered in environmentally-controlled furnaces.
Hybrid bonds offer hugely reduced cycle times, with material removal rates of up to 10 times that of any resin bond product, incredible wheel edge retention of more than 20 times that of resin bond wheels, lower spindle loads, excellent thermal stability, reduced tool deflection, longer spindle life and no thermal damage to the tool.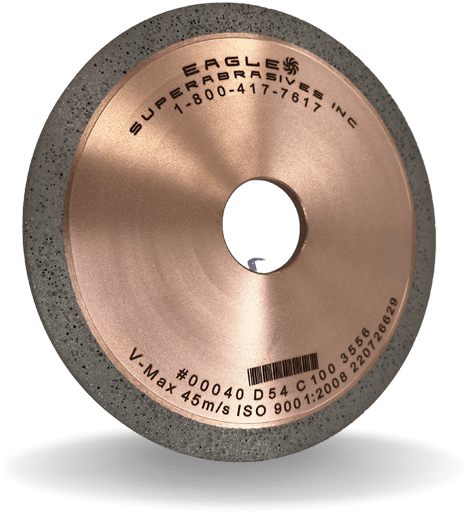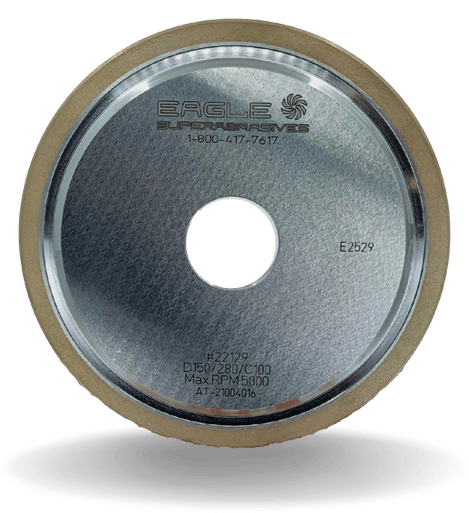 Metal Bond Diamond Wheels

Typical applications for metal bonds include grinding glass, ceramics, refractories, ferrites, tile, stone and quartz.
Metal bond wheels offer the best grit retention and a very long service life. They are industry-leading for form holding, but require high horsepower machinery but are typically slower cutting than resin and other bond systems. Metal bonds work best when grinding a very abrasive material.
Vitrifided Bond Diamond Wheels

Vitrified bond wheels are typically used for grinding PCD and PCBN tools, ceramics and semi-conductors.
Vitrified bond wheels are grinding wheels that consist of a bonding material made of glass and ceramic substances. Often times, vitrified bond wheels will be segmented on larger wheels. This is when abrasive segments are created in a separate mold, and then adhered to the core in segments.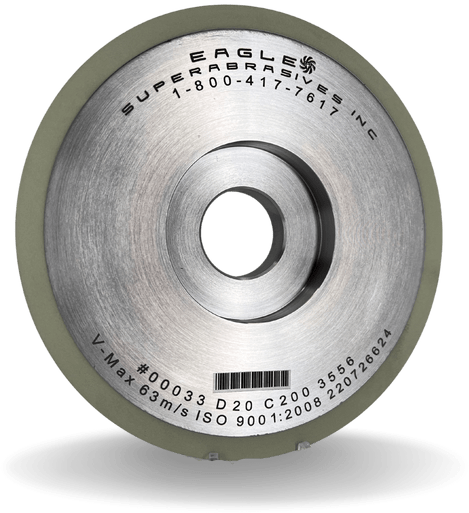 Trust the Experts
When you're ready to try the best, trust the experts at Eagle Superabrasives. We offer unparalleled customer support and service.
With an extensive inventory of over 6,000 diamond, CBN and CDX wheels in stock at our North Carolina location, we are capable of shipping 90% of orders same day. Custom orders can be shipped in as little as seven days.
Our experienced staff is dedicated to providing our customers with high-quality products and excellent service. We offer technical support and advice to assist you along the way.
We look forward to meeting all of your grinding wheel needs.