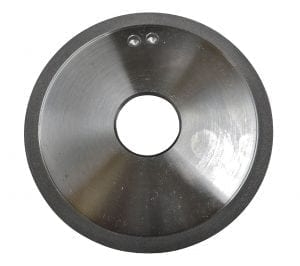 Eagle Superabrasives is a leading supplier of premier superabrasives in the United States. We stock an impressive range of diamond and CBN wheels that span a variety of industries.
Our Fluting and Gashing diamond wheels are ideal for use in the round tool industry. We also manufacture industrial knife grinding wheels, paper converting wheels and saw grinding wheels. Our diamond wheels are also commonly used in automotive and aerospace industries. At Eagle Superabrasives, we have the technology and the skill to manufacture CBN and diamond wheels to meet your needs. We can create a wheel as thin as 0.2mm or as large as 1000mm in diameter, and everything in between.
But what makes our CBN and diamond wheels superior to similar products is our extensive knowledge of bonds. We use an array of polyimide, phenolic, metal, electroplated and hybrid bonds depending on the wheel's intended application. From manual off-hand grinding to the latest machinery, our bonds are expertly selected for optimal performance.
In addition to our advanced bond systems, we at Eagle Superabrasives produce our CBN and diamond wheels on more than six different core materials. We know that there's no such thing as a one-size-fits-all type of grinding wheel, so why only use one or two types of core material? We carefully craft every wheel for optimal performance for its intended application. That's why we're confident that our CBN and diamond wheels will increase your productivity and last longer than other conventional wheels, saving you time and money.
Same Day Shipping
We stock over 6,000 CBN and diamond wheels at our Hickory, North Carolina location. Over 90% of our orders will ship same day. And if you need a custom wheel made, we can create and ship in as little as seven days.
Our team of experienced staff is ready and able to provide you with exceptional customer service. Our technical support staff can answer any questions you have about CBN and diamond wheels to ensure you're getting the right wheel for the job.
Contact us today to experience for yourself our quality products and superior service!