Automotive Grinding Wheels
Eagle's solutions for all stages of production
Automotive Grinding Solutions
Eagle works closely with automotive manufacturers to help them produce the best quality parts and components without burns, burrs or chatter. Whether you are grinding, cutting, finishing, shaping or polishing, we've got you covered.
Our diamond and CBN wheels are commonly used in the manufacturing of engine components, such as camshafts, crankshafts, valves and cylinder heads. Welded automotive body and chassis parts also require grinding smooth, sharp edges and precise finished surfaces. Eagle's specially engineered automotive grinding wheels assist operators in achieving the specific, polished surface finishes they require. Our grinding wheels ensure optimal operation, leak-free matting surfaces, reduced wear and decreased friction.
For Grinding Tubes
All Eagle Superabrasives' electrochemical grinding (ECG) wheels feature our propritary E-TEC bond formulation. E-TEC is designed to provide upgraded performance through higher conductivity, allowing for consistent burr-free cuts. While cutting 3.5mm stainless tubing, Eagle's E-TEC wheel achieved 24% longer life than our competition in side-by-side testing.
With E-TEC grinding wheels, you can expect:
For Grinding Round Tools
Formulated with Eagle Superabrasives' proprietary hybrid porosity technology, the Pro Flute Aero Bond utilizes pores in the bond to help keep the wheel cool, all while maximizing edge retention and cutting faster.
A combination of Eagle's aggressive-cutting Aero Max and form-holding Pro Flute bonds, the Pro Flute Aero was developed with the intention of grinding tools with 5/8" or smaller in diameter.
For round tool manufacturers looking for the best in production, efficiency, and price per part, look no further than Eagle.
For Grinding Valve Seats
Stellite is a material unlike any other, and Stellite-tipped tools require a superabrasive wheel specifically designed to grind them.
Unlike typical CBN wheels, which notoriously struggle to grind Stellite, Eagle's SharpTEC CBN wheels cut through effortlessly, leaving no burrs or burns on your parts. Additionally, our customers experience a significant increase in their wheel life due to increased cutting efficiency.
What sets our SharpTEC wheels apart? Unlike the rounded CBN particles used in standard formulations, our SharpTEC bond is made with super-sharp CBN particles, allowing the wheel to slice through Stellite without excessive glazing. Complete with our proprietary induced-porosity bond our SharpTEC wheels superior cooling, Our solution offers an unbeatable combination of extremely fast cutting and non-burning high performance for your Stellite-grinding applications.
For Grinding Cam & Crank Shafts
Eagle's proprietary VitTEC diamond and CBN wheels are made for operators looking for more out of their vitrified grinding wheels.
What sets our VitTEC wheels apart from other vitrified diamond & CBN wheels is Cold Isostatic Pressing (CIP). While ordinary vitrified wheels are only pressed from two dimensions, ours are evenly pressed from every single side, angle, and radii during the CIP process.This guarantees that our wheel segments have perfectly consistent density throughout the abrasive section.
As a result, our VitTEC wheels provide several advantages over our competition, including:
For Beveling Glass
Eagle Superabrasives' OptiTEC grinding wheel line offers metal and resin bonds specialized to suit your application.
Our OptiTEC wheels eliminate chipping issues by using our superior blend of diamond particles to maintain the sharpest cutting edge in any operation. A sharper diamond is critical when grinding glass. If the diamond is too blocky or rounds over too quickly due to wear, the wheel will start to chip the glass and ruin your parts. Eagle is ready to assist in your operations by providing this unique solution.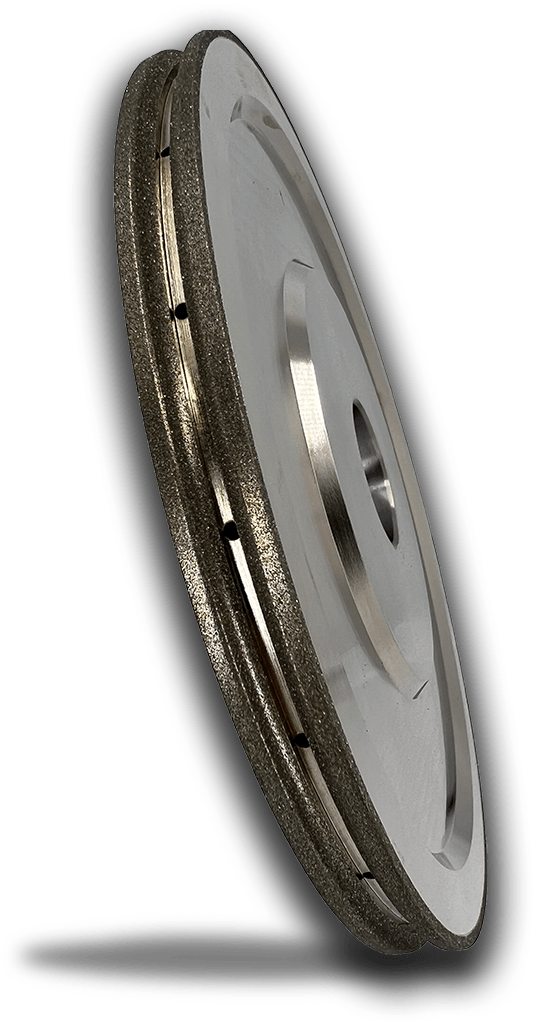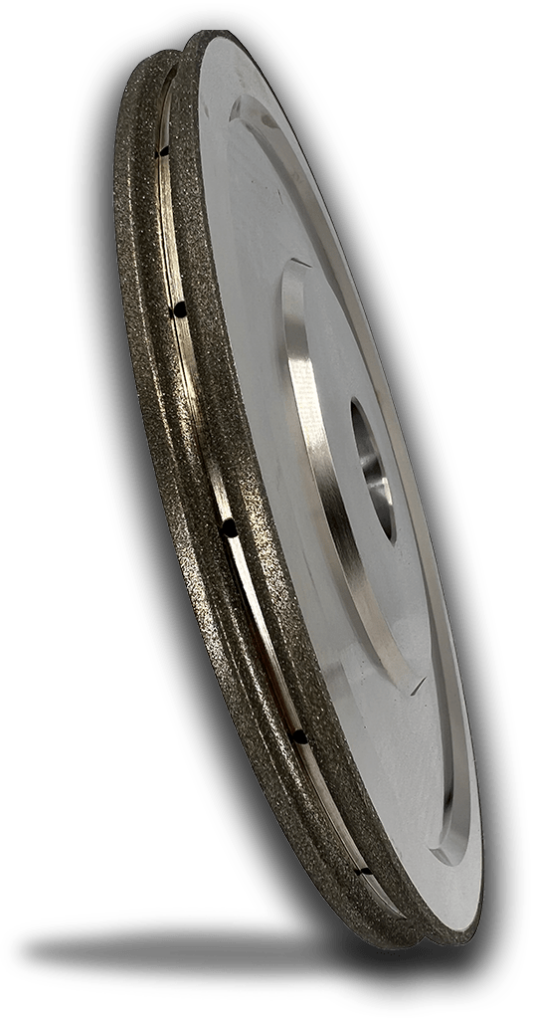 For Grinding Cutoff Wheels
Tired of frustrating cut-off wheels? Feel like you are not getting enough out of your investment? Eagle Superabrasives' CutMax cut-off wheels add versatility to your grinding operation.
With three specialized bond options, CutMax wheels give you the choice to cut faster or last longer:
CutMax – Our standard, most versatile cut-off bond; ideal for a wide variety of cutting applications
CutMax Green – Our fastest cutting, most aggressive cut-off bond; ideal when cutting without coolant or under a time constraint.
CutMax CNC – Specifically formulated to run on CNC machines with flood coolant, this cut-off bond is formulated to extend your wheel life and hold its edge longer than typical cut-off wheels.
All CutMax wheels are made with the most friable diamond on the market, allowing for fast cutting action while maintaining cooler temperatures.
Don't see what you're searching for? Speak to an application engineer –
No obligations. No fee. Just answers!!