Testimonials
Eaven Says…… So far with the wheels that I have ordered; 3mm X 75mm Diamond Fluting wheel This wheel is a beast I have only good things to say about it. 100% satisfied 100mm X 10mm CBN This wheel along with my programing has done exactly what I have set out to do […]
0 comments
Case Studies
Machine – ANCA Fast Grind MG7 HP = 5 Stock removal .216″ Proflute 2 versus 3M polybond wheel Traverse rate Their wheel, 3.5″/min. – Our Wheel, 6.3″/Min. Tools ground before Dressing Their Wheel, 12 – Our Wheel, 130 Cycle Time Their Wheel, 4 minutes – Our Wheel 2:30 minutes
0 comments
"After successful test of fluting, we converted all wheels necessary to grind this tool to Eagle wheels and were able to knock off almost 40% of the run time (from 22 min. to 14 min.) and extend truing intervals by 4x (from 50 parts to 200 parts). Also, the wheels virtually do not have to […]
0 comments
Eagle Pro Flute 2 versus Tyrolit Startec Wheel Machine – Walter Helitronic Mini Power 35HP Wheel 1V1 -45 Fluting Tool – 25mm 6 flute Form Cutter Competitors wheel federate – 1.5″/Min…… Eagle Wheel Feedrate 6.0″/Minute Tools ground before Dressing – Tyrolit – 50 pcs……Pro Flute 2 – 100 pcs Cycle Time – Tyrolit – 31:00 […]
0 comments
Radiac BX703 versus Pro Flute 1 Machine Walter Helitronic Mini Power – 13HP – 1V1 – 45 degree – 1/2″ 5 flute endmill Feedrate – Radiac Wheel 2″/minute ….Eagle wheel 8″/minute Cycle Time – Radiac Wheel 4:47….Eagle Wheel 1:18
0 comments
Evan said "Hey that little pro flute 3 wheel (51051) I bought from you guys is really kicking butt. I cut over 10 minutes off of my total cycle time and could push it a lot more if I wanted. You hit a home run with this one."
0 comments
Glenn said that the 44007 1V1/15 wheel has reduced his cycle time from 55 minutes to 25 minutes on a 6 flute tool. Says the wheel has knocked everything else out of the park.
0 comments
Pro-Flute® CNC Tool Flute Grinding Wheels for Carbide and HSS End Mill and Burr manufacturers.

Eagles Pro-Flute® Hybrid Bond System is designed specifically for high production End Mill grinding manufacturers and End Mill sharpening on a "lights out" basis. It is typical for this flute grinding wheel to grind well in excess of 400 tools between truing and re-grinding.
The Pro-Flute 2®  bond is designed for use on CNC Burr grinders and CNC End Mill grinders w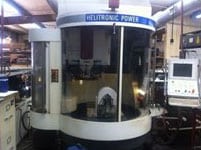 here production runs of up to 200pcs per tool are typically made at a time and unlike many other hybrid bonds, can be used for re-sharpening only.
Properties
Up to 20x greater performance than Polyamide resin bond wheels
Self-sharpening and wear-resistant bond
High material removal rate
Excellent heat dissipation
Greatly enhanced profile stability
No thermal damage to tools
Low grinding forces
Perfect surface quality
High truing intervals
If you need End Mill grinding wheels or Burr grinding wheels, you can be sure we have the perfect wheel for you in stock and ready to ship.
Actual SEM Photos of our Pro-Flute® Bond System »
Which Bond is Right for Me?
Pro-Flute® Wheel:
The Pro-Flute wheel is the ultimate high performance hybrid bond flute grinding wheel and gashing wheel designed for machines with 16 hp spindles and above.
Coolant pressure should be 100psi or greater.
A coolant chiller is preferred and filtration to 1 micron or finer is a plus.
The Pro-Flute wheel should be used in " lights out " operations and long tool runs where maximum edge retention, minimal dressing and maximum tool accuracy is required.
This wheel is perfectly capable of grinding in excess of 300 tools between re-truing, and some customers are reporting in excess of 400 tools produced before truing is required, while doing so at industry leading feeds and speeds.
Easy to true and dress on conventional wheel truing equipment.
Massive stock removal, low spindle load and best in industry edge retention are hallmarks of this wheel.
Pro-Flute 2® & Pro-Flute 3® Wheels:
The Pro-Flute 2 and Pro-Flute 3 wheels are more of a universal hybrid bond system that is suitable for use on all spindle power machines either low or high.
While they are not so sensitive to coolant requirements, they still offers performance in excess of any Polyamide bond system at a very similar price point.
Perfect for the smaller to mid-size shops with a variety of machines, giving the customer more flexibility from their wheel inventory.
Easy to true and dress on conventional wheel truing equipment.
A truly great universal wheel for a great price to performance ratio.
Recommended Grinding Feeds, Speeds and Material Removal Rates
Q'w  – Material removal rate (mm3/mm•s )
Vft   – Feed Speed (mm / min )
Ae    – Depth of cut
Q'w = (Ae x Vft)
60
More Hybrid Bond CNC Tool Info
You may also click here to download the entire .pdf about
Hybrid Bond CNC Tool Grinding Wheels