Diamond and CBN basics
EAGLE SUPERABRASIVES is one of the USA's premier superabrasive suppliers. We offer a complete range of diamond, CBN, and CDX wheels, covering a wide range of industries.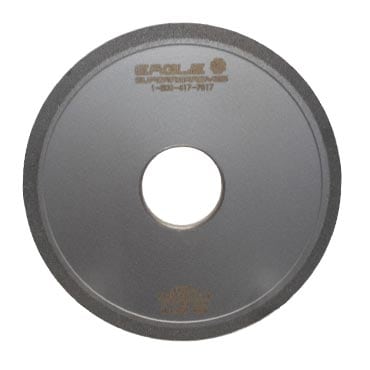 A Diamond Wheel or CBN Wheel comes in a variety of bond types with Resin being the most commonly used. Other bond types would be vitrified, electro-plated and metal. A Vitrified bonded Diamond Wheel is a medium of metal bonding and resin bonding offering excellent performance in the processing of hard materials with high stock removal rate and good wear resistance.
Eagle Superabrasives supplies only the best, High-Performance Diamond and CBN wheels.
As with most traditional grinding wheels – Diamond and CBN wheels can be used in a wide range of applications or processes and with a wide array of materials and most often a diamond wheel would be used on carbides whereas CBN wheels would be used on steels.
Diamond Wheel
CBN and Diamond wheels are classified by the shape, grit concentration and size as well as the bond. The experienced team at Eagle Superabrasives, Inc. can help you make the important decision as to the best specifications for bond and grit concentration pertaining to your application. The life of the wheel can greatly depend on these specifications and your application.
For example, over the years – some of our clients have asked whether a diamond wheel can be used on steels or if a CBN wheel can be used on carbides. Diamond wheels are categorically used for plastics, synthetics and for carbides – while CBN wheels should be used on steels alone.
For more information or to get a quick, 5 minute quote, call Eagle Superabrasives, Inc. at 800.417.7617. We offer a complete range of diamond, CBN and CDX wheels, covering a wide range of industries.
We can manufacture Diamond and CBN wheels as thin as 0.2mm and up to a maximum diameter of 700mm (27-1/2″) and anything in between.
Our extensive inventory of over 6000 Diamond, CBN and CDX Wheels at our Hickory, North Carolina USA location ensures we ship 90% of orders same day. Custom wheels can be made in as little as 7 days.
We look forward to meeting all of your grinding wheel needs.