Diamond Superabrasive Wheels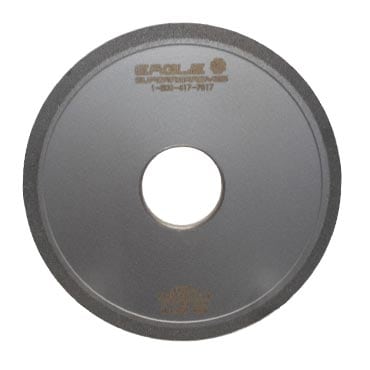 If you're in the market for Diamond Superabrasive Wheels, the experts here at Eagle Superabrasives have what you're looking for. With an extensive inventory of over 6,000 diamond, CDX and CBN Borazon wheels, Eagle Superabrasives is a leading source of Superabrasive supplies in the United States. Ninety-percent of orders are on location at our Hickory, NC headquarters and are ready for same day shipping. We can even fill custom orders in as little as seven days. So don't settle for subpar Superabrasives; contact the experts at Eagle Superabrasives for all your grinding needs.
What are Diamond Superabrasive wheels?
Conventional sharpening wheels are made up of materials that are not as hard as Diamond. When it comes to sharpening tools, we recommend our diamond superabrasive wheel series. Diamond, being the hardest naturally occurring element on the planet, allows for a longer lasting sharpening wheel compared to conventional wheels used in the industry such as aluminum oxide and silicon carbide. Harnessing the strength of the diamond by applying it to a Superabrasive wheel, machine life and tool life are exponentially greater than that of the conventional wheel. Diamond is great at high temperatures, due to its high thermal conductivity tolerance, allowing Diamond Superabrasive wheels to create less friction when machining therefore expanding the overall life of the tool.
Diamond Superabrasive wheels are classified by shape, grit size, the concentration and the bond. At Eagle Superabrasives, we manufacture a polycrystalline diamond (PCD) with a vitrified bond system. By using a vitrified bond in diamond Superabrasive wheels, we increase the porosity allowing more coolant to easily reach the sharpening point. Enhancing the cooling process of a diamond Superabrasive wheel improves the chip removal rate and reduces the contact to surface therefore reducing the heat that is produced.
Trust the experts
When you're ready to try the best, trust the experts at Eagles Superabrasives. Our experienced staff will provide support and advice along the way. With unparalleled customer service, superior products and fast shipping, Eagle Superabrasives is any choice for all your grinding needs. Contact us today to place an order!