Eagle Superabrasives is a one-stop shop located in Hickory, NC that specializes in high-quality Superabrasive products and offers the best customer service in the industry. With an extensive inventory of over 6,000 diamond sharpening wheels, CBN wheels and other superabrasives supplies at our Hickory, NC headquarters, we are able to ship ninety-percent of orders in the same-day. We can even fill custom orders in as little as seven days.
Diamond Sharpening Wheels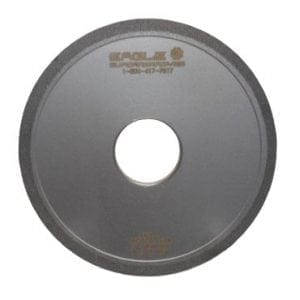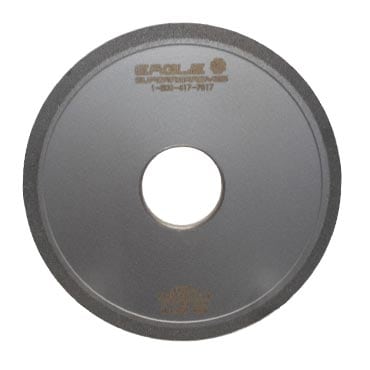 Diamond Sharpening Wheels are ideal for working with materials that are non-ferrous. Because Diamond is the hardest mineral known to man, it only made sense to use it as a Superabrasive. Eagle Superabrasives offers a Polycrystalline Diamond(PCD) which is ideal for sharpening and grinding purposes. Our PCD diamond sharpening wheels are created by mixing together sintered vitreous materials and carefully selected diamond powders, then applied to grinding wheels using a vitrified bond system. Our chemist and engineers worked together to specially formulate our bonding system to ensure minimal diamond pull-out and extending the life of the wheel. By incorporating a vitrified bond into our diamond sharpening wheels, many advantages are added. Firstly, vitrified bonds allow for an open structured grinding experience as well as cool cutting. Vitrified bonds offer high stock removal, precise finish and compatibility with conventional diamond dressers.
An Extended Life
Diamond Sharpening wheels have shown to maintain a longer life compared to that of conventional wheels. Diamonds are immensely durable and hard giving the wheel a higher material removal rate. The extent of hardness of the bond determines the life. The hardness is determined by either allowing the abrasive grains to fracture easily or by restricting the fracture. If the diamonds fracture easily, the wheel is considered soft. Hard wheels withstand great forces such as that of pressing the wheel down while sharpening because the fracturing of the diamonds are restricted. Hard wheels typically last longer and offer a finer finish. Diamond Sharpening Wheels typically do not fail under heavy use, instead the breakdown of the bonding layer causes the Superabrasive to break away from the metallic core of the wheel. Our vitrified bonds ensure that our wheels last longer and decrease the breakdown rate, resulting in an extension of the wheel life.
Trust the experts
When you're ready to try the best, trust the experts at Eagle Superabrasives. Our experienced staff will provide friendly support and advice along the way. With unparalleled customer service, superior products and fast shipping, Eagle Superabrasives is an easy choice for all your grinding needs. Contact us today to place an order!