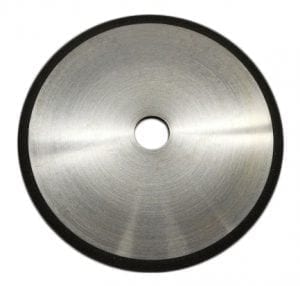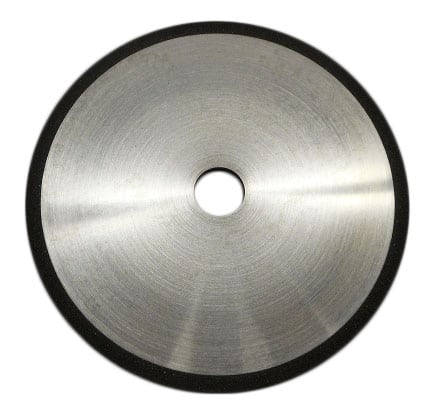 Contrary to what the name suggests, a diamond sharpening wheel doesn't actually sharpen diamonds. The superabrasive uses diamond powders affixed with a vitrified bond to a grinding wheel in order to sharpen a variety of tools. At Eagle Superabrasives, we manufacture two kinds of wheels that are ideal for sharpening purposes.
Our polycrystalline diamond (PCD) and polycrystalline cubic boron nitride (PCBN) wheels feature a vitrified bond system. We mix together sintered vitreous materials with carefully selected diamond and CBN powders. As a result, a chemical and mechanical bonding of the abrasive powder to the bond structure occurs. Therefore, it minimizes diamond and CBN pull out, extending the life of the wheel. Additionally, it minimizes the chance of the wheel becoming loaded up during use.
A vitrified bond increases the tool life by over 150 times that of a resin bond. It also allows for easy truing and dressing on the machine.
A diamond sharpening wheel often uses a grit size of D22 Micron for rough grinding and D9-D6 Micron grit for super finish grinding.
At Eagle Superabrasives, we manufacture the shapes of our diamond sharpening wheels to fit 6A2 and 12A2 styles. The core shapes are designed to be very rigid and used primarily on PDC/PCBN grinding machines like Coborn, Toyoda, Waida and EWAG, to name a few.
Diamond Sharpening Wheels
Our 6A2 PCBN wheels are ideal for knife grinding, saw grinding, edge grinding and surface grinding. They can be manufactured with diamond powder, CBN powder or a mixture of the two. And sizes can range from 1" to 27" in diameter. Our 12A2 wheel is perfect for tool and cutter grinding, off hand grinding, face grinding and top grinding. The diamond sharpening wheel can feature phenol, polyimide, hybrid or electro-chemical bonds, and sizes range from 2" – 16" in diameter.
No matter what kind of diamond sharpening wheel you're looking for, the experts at Eagle Superabrasives can manufacture one to meet your industry's specific needs. Contact us today!