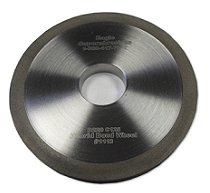 Our unique bond systems, comprised of a mixture of specially selected alloys, ceramics and diamond powders and coatings all sintered in environmental controlled furnaces, offer stock removal rates and tool edge retention that were unheard of only a few years ago.
Hybrid bonds have now become the industry standard bond type for all manufacturing of Ferrous based steel end mills, drills and reamers.
They offer the benefits of hugely reduced cycle times, with material removal rates of up to 10 times that of any resin bond product, wheel edge retention of more than 20 times that of resin bond wheels, lower spindle load, excellent thermal stability, reduced tool deflection plus longer spindle life and no thermal damage to the tool .
We are currently able to manufacture hybrid bond wheels up to 10″ diameters.
Please, contact us to help you select the best grinding wheel that would fit your needs among a wide selection of our top quality:
Hybrid Bond Diamond Grinding Wheels
Hybrid Bond CBN Grinding Wheels
Hybrid Bond CDX Grinding Wheels
Learn More about Hybrid Bonds:
Getting Started with Hybrid Bonds