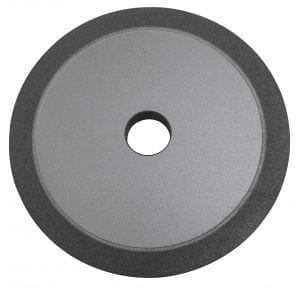 When it comes to creating the ideal glass grinding wheel, the experts at Eagle Superabrasives have it down to a science.
When it comes to the superabrasive that's best for cutting glass, use only diamond. The most important factor in choosing the right glass grinding wheel actually depends on the bond system.
To grind glass and ceramics effectively, a grinding wheel will usually feature a metal bond. Grinding ceramics and glass can erode away resin bonds, lessening the wheel's effectiveness and overall life. Metal bonds are extremely abrasion resistant, and can grind refractory ceramics in grit sizes ranging from D60 to D1000.
Resin bonds can grind ceramics as well. But they're best at grinding harder, finer grain pieces as part of the finishing process. However, resin bonds are great for cutting very thin walled tubes with minimal cracking and chipping. The softer bond system allows for a constant exposure of sharp diamond particles, ensuring a clean cut.
Custom Orders
At Eagle Superabrasives, a glass grinding wheel is typically made to order. We design our wheels to expertly cut and grind scientific glass, laminated glass, stem wear, mirror and sheet glass beveling, optical glass, and more.
When using a glass grinding wheel, be sure to grind under flood coolant. This helps remove the grinding swarf safely and prevent loading or clogging the wheel pores.
We offer a wide selection of glass grinding wheel shapes and degrees of hardness. Depending on what kind of glass is being cut and machine operator preference, we design the wheels to feature segmented or continuous rims.
When you're ready to purchase a glass grinding wheel, trust the experts at Eagle Superabrasives. Our high-quality products, knowledge of the field and expansive inventory have made us a leading superabrasive supplier in the United States. Contact us today to place your order!