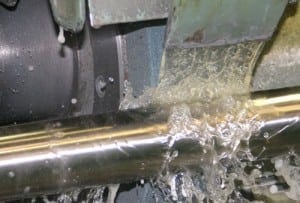 A centerless grinding wheel is the preferred superabrasive for grinding a large amount of material in a short amount of time. The professionals at Eagle Superabrasives have been manufacturing custom centerless grinding wheels for years, and have perfected their process. Almost every week, they're making centerless wheels for Koyo, Landis, Okuma, Unison and Royal Master, to name a few. If you need the superior precision and abrasive properties that are synonymous with a centerless grinding wheel, trust the experts at Eagle Superabrasives.
A traditional centered grinding process uses a spindle or fixture to secure a workpiece. But a centerless grinding wheel relies instead on two rotary grinding wheels. Their relative rotation determines how much material is removed from a workpiece, as well as how quickly it's removed.
Centerless grinding can be done in three different processes. During through-feed grinding, a workpiece is fed completely through the grinding wheels. It can be especially efficient because the process doesn't require a separate feed mechanism. However, only cylindrically-shaped pieces are accepted in this kind of grinding.
End-feed grinding is also done with the aid of a centerless grinding wheel. In this process, a workpiece is fed axially into the machine until it rests against an end stop. After it's been ground, the piece is removed and fed back in through the opposite direction. This process is most often used for tapered workpieces.
Finally, during the in-feeding process, a workpiece is loaded manually into the grinding machine. The regulating wheel is then moved into place. This type of centerless grinding often deals with oddly-shaped workpieces that require manual manipulation.
Master Manufacturers
Manufacturing custom wheels is commonplace at Eagle Superabrasives. We can provide surface finishes on a centered grinding wheel to 1 RA and better. And our wheels can be made with an abrasive depth ranging from 1/8 inch to 1/2 inch for special applications. Our wheels are precision ground, and can be ready to use right out of the box.
If you need to purchase a centerless grinding wheel, contact Eagle Superabrasives. No matter what material you're grinding, we can make a wheel that can do the work.