CBN Wheel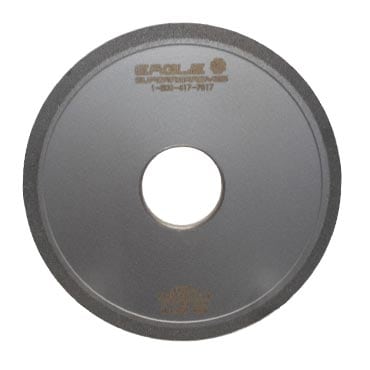 Eagle Superabrasives located in Hickory, NC maintains an inventory of over 6,000 Diamond, CDX and CBN wheel to break difficult to grind(DTG) materials apart. Ninety-percent of orders are on location and are ready for same-day shipping. We can even fill custom orders in as little as seven days. Don't settle for subpar Superabrasives; contact the experts at Eagle Superabrasives for all your grinding needs.
When it comes to machining of difficult to grind (DTG) materials, the CBN wheel is heavily used in the grinding and sharpening industry. Unlike diamond grinding wheels which are found in nature and unsymmetrical, CBN is a synthetic material composed of Carbon, Boron and Nitride and maintains a symmetrical structure. Harnessing CBN as the abrasive material used in the manufacture of a CBN wheel allows users to apply very little pressure compared to other grinding wheels and generates less heat and less sparks. Additionally, these wheels are durable and long-lasting allowing for low-maintenance and thus making them a more cost-effective grinding solution.
Because of the Carbon, Boron and Nitride composition our CBN wheels are ideal for numerous tasks that are required in industry. Our CBN wheel are mostly resin bonded allowing them to be used in many applications whether with or without coolant. Our advanced, propriatary bonding system and formulations used at Eagle Superabrasives will ensure that your CBN wheels hold their form and last longer, boosting your productivity and saving you money. If you would like to read more about CBN Wheels click here.
Trust the experts
When it comes to meeting the demands of your Superabrasive needs, our experienced staff will provide support and advice along the way. With unmatched customer service, superior products and fast shipping, Eagle Superabrasives is an easy choice for all your grinding needs. Call or contact us today and let us help you find the product that will work best for you.