CBN Wheels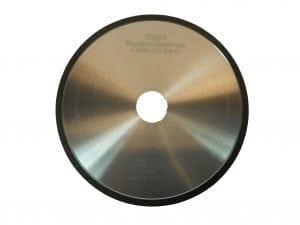 Eagle Superabrasives, Inc. offers CBN wheels in three different bond systems. CBN is used to grind Ferrous materials with a hardness greater than 42 Rc.
HYBRID BOND CBN Wheels
Used in the manufacture of D2,M2, Alloy and Super Alloy End Mills, Drills and Reamers.
Our unique bond systems, comprised of a mixture of specially selected alloys, ceramics and diamond powders and coatings all sintered in environmental controlled furnaces, offer stock removal rates and tool edge retention that were unheard of only a few years ago.
Hybrid bonds have now become the industry standard bond type for all manufacturing of Ferrous based steel end mills, drills and reamers.
They offer the benefits of hugely reduced cycle times, with material removal rates of up to 10 times that of any resin bond product, wheel edge retention of more than 20 times that of resin bond wheels, lower spindle load, excellent thermal stability, reduced tool deflection plus longer spindle life and no therrmal damage to the tool .
Manufacturing capabilities of up to 10" Diameter
RESIN BOND CBN Wheels
Resin bond is the most commonly used bond system that is used for grinding all types of Ferrous tools such as Tool Steel, Stellites, hardened Alloy and Super Alloys. It offers good elasticity, superior surface finish and highly efficient grinding performance at a very cost effective price
Phenolic Resins. Typically used for wet or dry grinding, off-hand grinding, centerless grinding and general purpose tool room use.
Polyimide Resins. These resins offer considerable performance increase over phenolic resins. Greater stock removal, better form holding, higher temperature tolerance and minimal wear are all benefits of polyimide body systems.
Manufacturing capabilities of up to 27" diameter
VITRIFIED BOND CBN Wheels
Vitrified bond CBN wheels are typically selected for grinding Camshafts and Crankshafts, internal and external grinding of cylinders, etc.
Vitrified bond wheels are extremely aggressive and free cutting and provide excellent tool life. They require less dressing and offer longer truing intervals than resin bond wheels. They are cool cutting and are suitable for "lights out" high production grinding in manufacturing environments.
Vitrified Bond – Min. Diameter 3/16 in. / Max. Diameter 40 in. (Segmented)