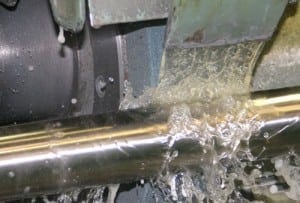 At Eagle Superabrasives, we custom manufacture diamond and CBN centerless grinding wheels to order. Whether you're grinding Tungsten carbide, Tool steel, powdered metal or tapered rods, we can create the perfect wheel for the job.
Centerless grinding wheels differ from traditional wheels in that the workpiece is not secured to a spindle or fixture. Instead, it's situated between two rotary wheels. The speed of their rotation determines the speed of the abrasive and how quickly material is removed.
In most cases, centerless grinding wheels are the preferred superabrasive for projects where a number of parts must be processed within a relatively short amount of time.
There are three types of centerless grinding, that differ only by the method used to feed the workpiece through the machine. First, there's through-feed. During this process, workpieces are fed between centerless grinding wheels completely, entering one side and exiting the other. This process can be very efficient because it doesn't require separate feed mechanisms. However, through-feed can only be used on workpieces with cylindrical shapes.
Secondly, in end-feed grinding, workpieces are fed axially through the centerless grinding wheels until they rest against end stops. After the grinding process is complete, the piece is taken out and fed again in the opposite direction to exit the machine. This process is best used for manufacturing tapered workpieces.
Lastly, centerless grinding wheels are used for in-feeding, which is used to grind workpieces with relatively complex shapes. Prior to grinding, the piece is loaded into the grinding machine and the regulating wheel is moved in place. Manual manipulation is required due to the inconsistent workpiece shapes.
Experienced Staff, Quality Products
The experts at Eagle Superabrasives have been manufacturing centerless grinding wheels for years. We've used our extensive experience to perfect our processes, and can produce the most precise centerless grinding wheels available, ready to use right out of the box. We can provide surface finishes to 1 RA and better, depending on the type of material being ground. And we can even produce wheels with abrasive depths ranging from 1/8 inch to 1/2 inch for special applications.
When you're ready to purchase centerless grinding wheels, trust the experts at Eagle Superabrasives. With our extensive knowledge of our products, superior customer service and competitive prices, it's an easy choice. Contact us today!